THREE COLOURS: GREEN
at 3+1 Arte Contemporânea, Lisbon, portugal

On View: 11 November 2022 → 07 January 2023

PDF of the exhibiton
Review in Umbigo Magazine
Film of the exhibtion

In early 2022 Evy Jokhova travelled to Peru where she lived with the Shipibo-Konibo indigenous community. Three Colours: Green is the result of research developed by the artist during this period. By experiencing everyday life as all encompassing rituals, which involve all elements in a relationship of interdependence, the artist explored unique modes of care, rooted in the idea of totality. Reactivating ancestral knowledge that requires a renewed look at nature, its richness, and processes, Evy Jokhova invites us to think about the potential of the primal, legitimizing it and seeking to affirm its space in contemporary culture.

In the exhibition, ceramics can be seen, in some cases, in dialogue with organic elements; textiles dyed using plants [yakushapana], harvested during the artist's stay with the community; and also a participatory event in which the public will be invited to share a meal. Shared food brings to the exhibition the notion of interdependence. The ingredients collected by Evy Jokhova, offerings to the public, are in turn given by nature itself, and in this dialogue, magic asserts its place.



The installation and performance by Evy Jokhova is based on a story told and re-told many times. The story is recreated through the setting of a long dining table with handmade ceramic vessels and metre long cutlery produced by the artist. The installation is activated through performances where members of the audience join for a dinner of foraged plant-based food served in animal shaped ceramic dishes using this extensively long cutlery. In doing so, they re-enact the multiple dilemmas existent within human relationships.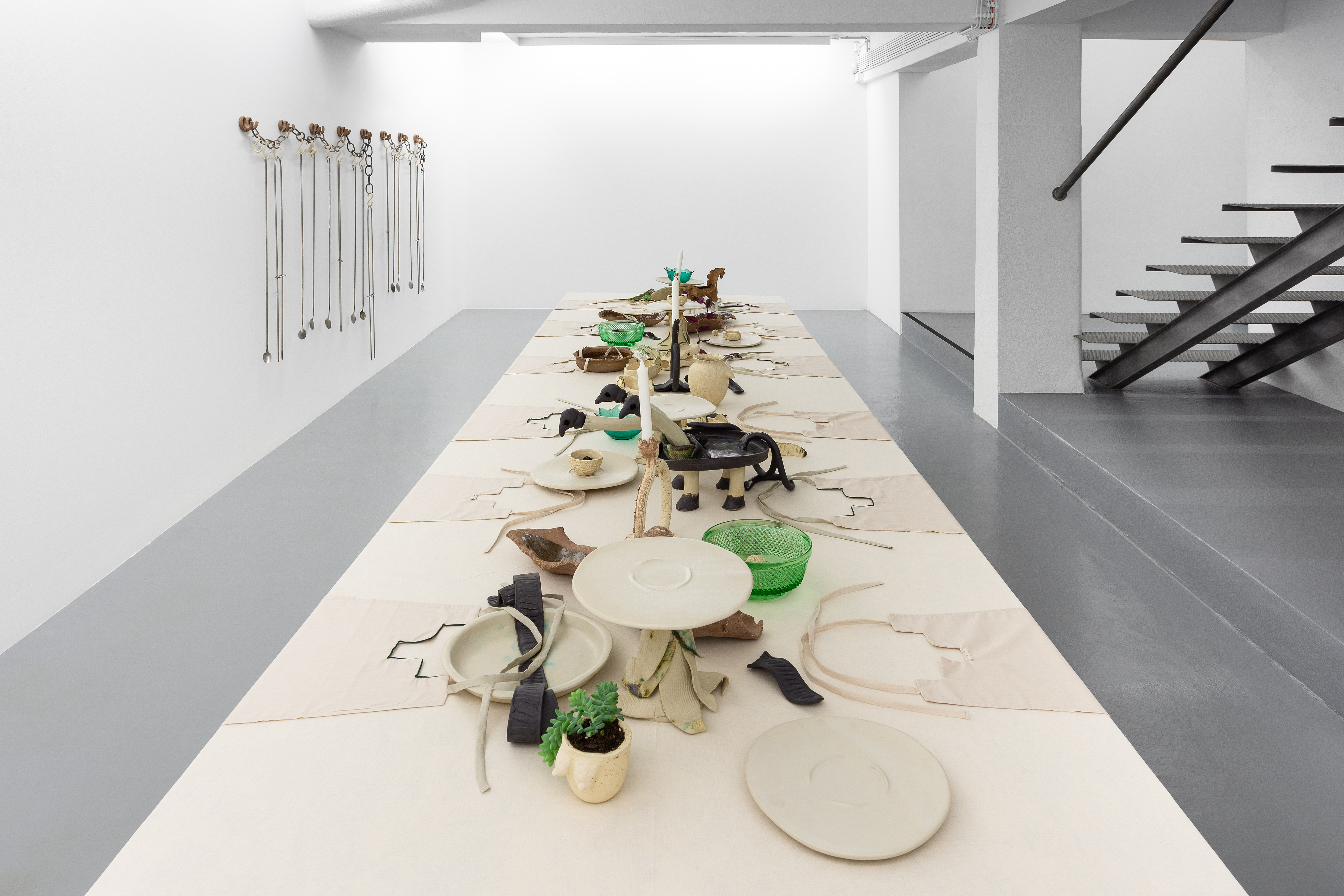 SMALL WORKS:




Image credits Bruno Lopes